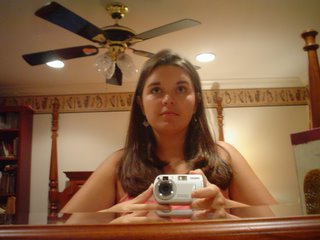 Moments after Turning 24.
I looked a lot happier
last year.
It was such a weird birthday last year. No one I actually saw that day acknowledged that it was my birthday, but I received tons of emails from home.
Today, I have been home, and have receieved phone calls from many of my friends and family, but it's been a lonelier birthday than last year's ever was. I guess it has a lot more to do with my current state of mind and situation than anything else.
I'm so not handling this all very well anymore. Physical therapy (the latest attempt to fix the pain) is kicking my butt all over the place. So far, it's PT-3, Tori-0. I have another round tomorrow, which I am totally not looking forward to. I know it's all "no pain, no gain" and everything....but sheesh.
Oh well. Here's to a new year of life. I'm thankful for the last one, even though it didn't go exactly according to plan, and I'm looking forward to whatever this new one brings (mostly, so long as it doesn't involve too much more PT). It's all just part of the big adventure, right?